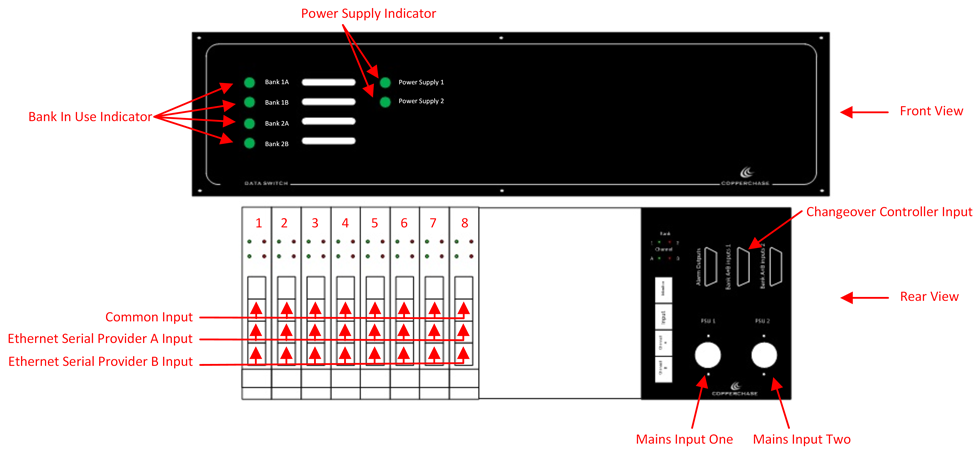 Features
The Copperchase A/B DataSwitch switches one of two 8-Pin RJ45 ports (A and B) to a common (C) input/out port, controlled automatically via a Remote Control port.
The AB DataSwitch has a port capacity of 16 (32, two units Cascaded) channels capable of being remotely gang switched to sides A or B.
The AB DataSwitch allows the 16 (32) channels to be configured in two independently switched Banks (Bank 1 or Bank 2), i.e.16 Channels = 4 on Bank1 + 12 on Bank2 OR 32 Channels = 16 on Bank1 + 16 on Bank2.
The AB DataSwitch connectors are of the RJ45 type.
The AB DataSwitch provides copper to copper contacts on all switched input/output pins.
Control of the unit is performed from external control signals.
The AB DataSwitch provides a dry contact alarms to allow monitoring software to determine whether the unit is still functional, PSU – PSU1 OK PSU2 OK.
The unit is completely passive and switching routes are via relay contacts.
The unit is powered from two redundant +24VDC power supplies.
In the event of a failure of the unit, the current state is latched, i.e. no switch over will be performed.
Physical
The A/B DataSwitch is housed in a 3U 19" rack-mountable unit containing AB Module circuit board cards.